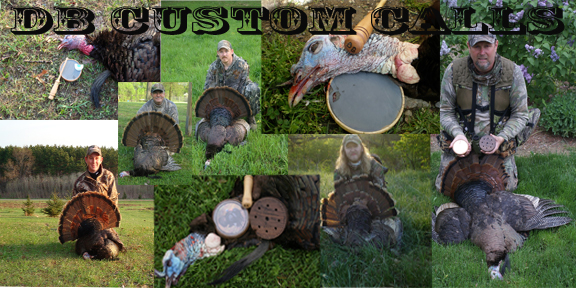 Join my Facebook Fan page
Update 3/17/2013
Back to building turkey calls!Contact me for your custom built call!
Update 3/17/2013
Welcome to another year of turkey hunting!It's hard to believe it's been almost 7 years since I've been building calls!Time sure is flying by!Just a quick update.I am now offering a few new calls.I'm now getting into laminate call.For example,I build a cherry pot with a walnut bottom or what ever else I have laying around.I have found this pot has excellent sound and should be deadly on a turkey!I am also offering ceramic surfaces too.This material makes a sweet call!Please join my Facebook page at the link above,I keep it updated regular with new calls and contest!Please keep me in mind for your next custom call.I can do just about anything you may want!Thanks again and happy hunting!Be safe!
Darin Blackburn
Looking for a great hunting forum?Then check out
2009 southern Indiana Buck
I added a video section to my site.If you have any video footage of my calls in action I would like to post it here.Thanks!